When your shipping less than truck load quantities, the experienced Tech Transport LTL specialists will provide competitive rates for all of your USA, Canada and Mexico shipping needs. Our state-of-the-art TMS utilizes many regional and national carriers to satisfy your LTL needs. Tech Transport's attention to every detail is what sets us apart.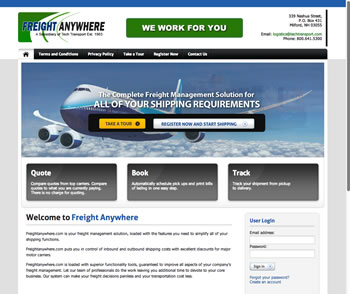 Our LTL TMS:
Powered by Freight Anywhere Services LLC
Utilize our advanced state-of-the-art TMS with no monthly service charges. Run rates, book shipments, create BOL's, track and trace shipments are just a few of the many features at your fingertips, visit Freight Anywhere now to learn more.
Our LTL Services:
Competitive Rates throughout US, Canada & Mexico
Special Rates for Bulky LTL Shipments
Inbound and Outbound
Van, Refrigerated Van, and Flatbed LTL
Expedited LTL Service
Tracking Services
Air-Ride Trailers with Blanket Wrap
Trade Show Deliveries and Pick-Ups
Valid Contracts and Tariffs
Verified Insurance Certificates
Contingent Cargo Insurance
Save money with our Volume LTL Service
Are you Shipping heavy or bulky LTL? Why pay published rates for your larger LTL shipments. We offer:
Competitive Spot Rates
Quicker Deliveries Reliable On-Time Schedules
Thousands of Overnight Points
Freight can be Loaded Directly on to Delivery Equipment
Ask us for our Volume LTL rate and service quote. You'll be surprised!
Contact Our Experienced Freight Specialists at 800-641-5300 or fill out our request form now.